Calluna vulgaris
Flower of Passion
3rd vowel of the Ogham alphabet - Ura
June 21, Summer Solstice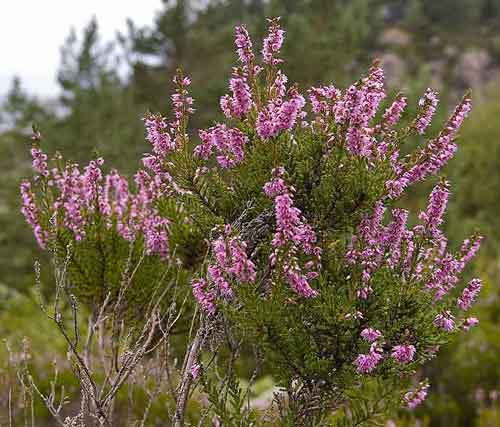 Planet: Venus
Element: Water
Symbolism: unbridled Passion (and its consequences,) Protection, luck
Stone: Garnet
Color: Red, white
Bird: Red Grouse
Deity: Uroica, Venus, Erycina, Cybele, Isis
Sabbat: Summer Solstice
Folk Names: Common Heather, Heath, Lyng, Scottish Heather
Medicinal properties:
A decoction made from the flowering tips can be added to a bath for toning muscles and soothing rheumatic pain. It also has antiseptic and diuretic qualities. Mainly, heather is used for treatment of nervous complaints, cardiac palpitations, migraine, and problems associated with menstruation. The flower essence can be helpful for those who have become so self-obsessed that they have no thoughts or time to give to others, promoting generosity of spirit and better awareness of other's needs.
Magickal properties:
Heather may open portals between this world and the faery world,
where the Fae of this flower are especially attracted to shy people.
White heather is the luckiest heather and protects against violent assault, especially rape.
Sleeping on a pillow stuffed with this magick herb can bring dreams foretelling good fortune.
Burned outside with fern, it brings rain, and in Ireland, it has been used to conjure the spirits of the dead.
Heather is both helpful to those who shape shift, as well as protective against harmful shifters.