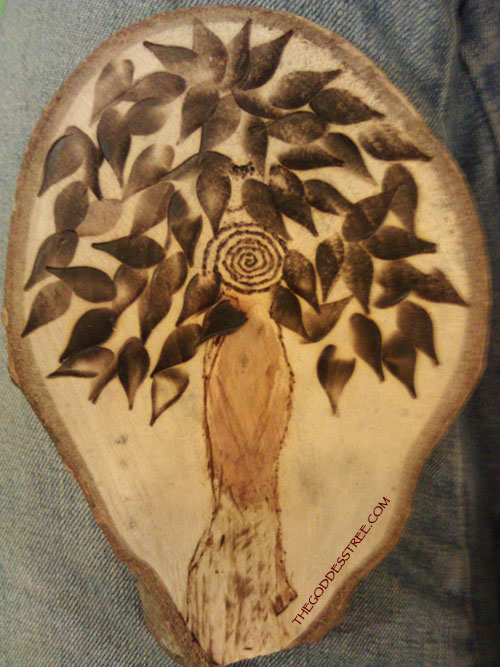 There is a branch for you to sit upon with a beautiful view.

Climb up into her arms, and stay for a spell.

Feel her roots, her bark, her branches, her leaves.

She is shade, shelter, a home, a hide-away.

She is an escape.

She rocks you to sleep in your hammock.

She holds up your birdfeeder and your wind chimes.

She embraces anyone who loves to climb.

In the spring she offers life, and in the fall she gives her own.

She does not judge.

She just is.

Gwendolyn, 2007
Once I could see her I noticed she was everywhere, in everything and everyone.
She has a balance and symmetry to her that I find comforting,
and many levels of uniqueness to keep her interesting.
In and around her I see patterns, textures, and depth, and a web that holds us all together.
It all makes perfect sense when I look at her.
There is calmness. I am her. I trust her. She is beautiful.
The Goddess is Alive
It was not difficult to hear and understand her messages, once I became open to listening. The difficult part was taking the responsibility back, knowing now that I create my reality. I have the power (and the right) to choose how I perceive and react to the world.

The Crone, she stands there calling my name, motioning for me to come closer.
She is laughing. I already can sense her wisdom.
We both know I am close. I am preparing as I make the trip towards her.
There are things I still need to get rid of,
so that I can remember how it was when I was a child.
My adult worries need to go away - so that I can arrive at her crossroads,
ready to be with her, and ready to Be Her.
She used to frighten me, but now I see myself walking towards her.
I will anticipate her embrace. That is my choice.
In Her eyes, I see Gentle Strength.
I have the strength to be gentle and kind.
I have the strength to let others believe what they will, and to accept them for who they are.
I have the strength to be who I am, unafraid, trusting myself and my inner voice.
Because of my strength I am trusted, cared for, and I have love.
I have what I need because of my strength